The Ngassa Contract Areas
The two stratigraphic licenses for the Ngassa Shallow and Deep play areas, located in Hoima and Kikuube Districts are operated by Oranto Petroleum Limited (OPL). The Ngassa block, which was initially part of Exploration Area 2 (EA2) licensed to Tullow Uganda Operations Pty Ltd (Tullow), is covered with good quality 2D and 3D seismic data acquired between 2003 and 2008. Since the structure lies entirely under the lake, two deviated wells, Ngassa-1 and Ngassa-2 were drilled on land at the periphery of the main structure between 2007 and 2009 respectively in order to access the reservoirs. Both gas and oil shows were encountered by the two wells. Due to relinquishment obligations in the PSA, Tullow relinquished this part of EA2. However, a large part of the structure still remained untested, hence the need to relicense it. The Ngassa block was stratigraphically delineated. Stratigraphic licensing is aimed at ensuring that the full potential of the acreage is explored since companies may be inclined to not implement exploration work programs in the shallow reservoirs especially when they contain gas, as opposed to the deep oil reservoirs. The PAU approved, and is monitoring the following work programmes implemented by OPL:
Acquisition of new Two Dimensional (2D) seismic data amounting to 326-line km.
Reprocessing of existing 2D (325-line Km) and Three Dimensional (3D) Vintage Seismic data (250 sq. Km).
Carrying out a Petro-physical study on Ngassa-1 and Ngassa-2 wells.
Carrying out Amplitude Versus Offset (AVO) study on existing seismic data using the two (2) wells namely Ngassa-1 and Ngassa-2.
Undertaking a drilling solution study for Lake Albert.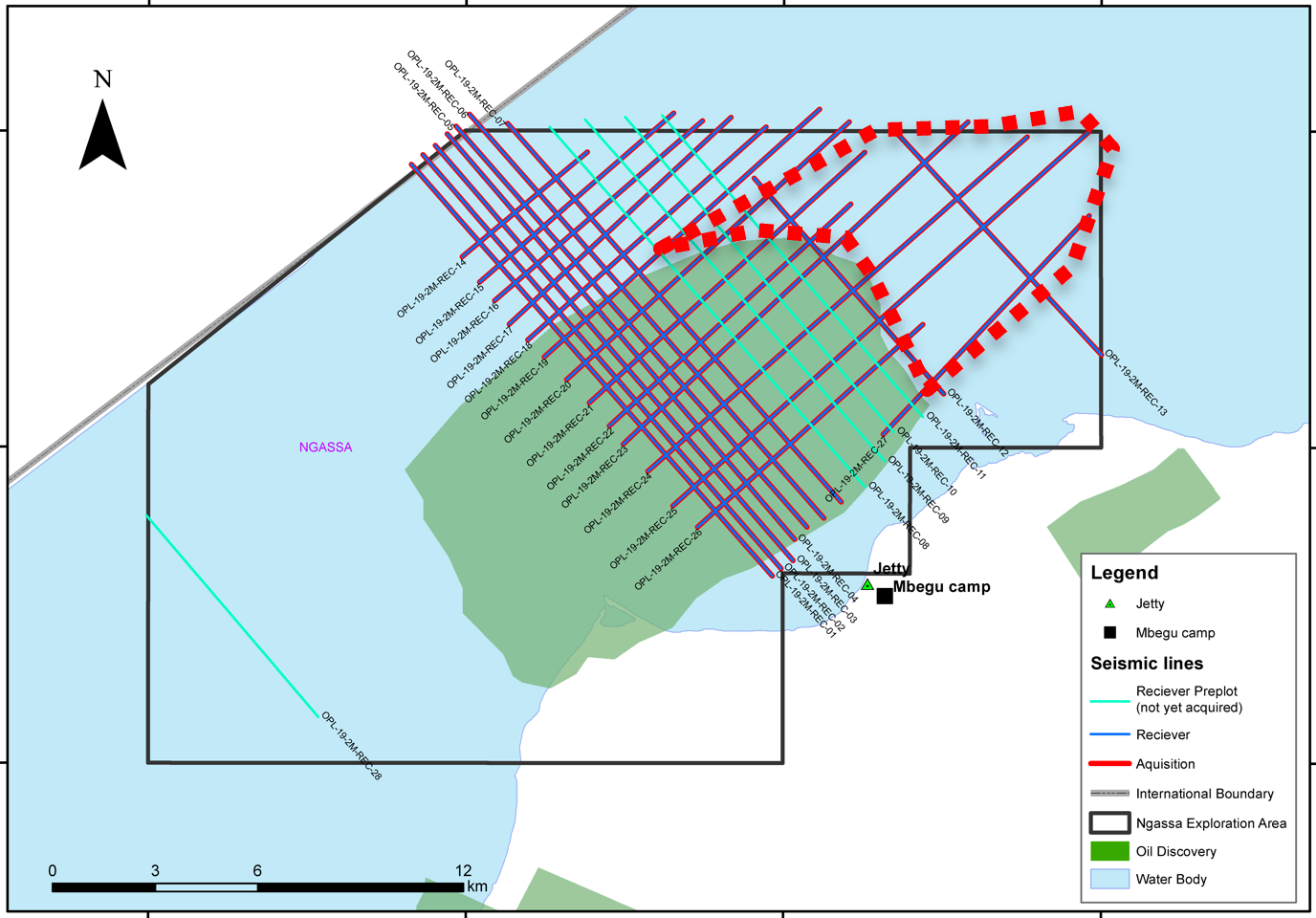 Map showing the acquired 326Km line of the 2D Seismic survey over the Ngassa Contract Areas
Downloadable file(s)
The Ngassa Contract Areas Click Here Download